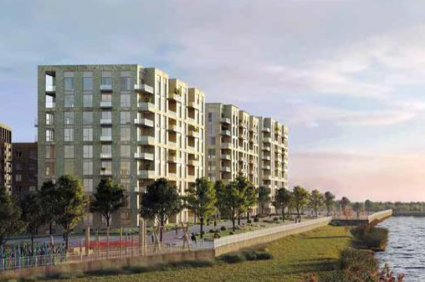 DWS has announced it has exchanged contracts to acquire three residential properties within the development known as "Royal Albert Wharf" in East London for one of its institutional real estate funds, in an off-market transaction.
The fully let new residential properties in the Royal Docks, completed in 2020, are located directly on the River Thames and not far from London City Airport. With a lettable area of around 12,300 m², the three properties comprise of 182 residential units. The properties are primarily aimed at young professionals and families and, due to its location, are very well connected to Canary Wharf and the City of London.
The seller is Folio London, the PRS arm of Notting Hill Genesis. Savills Operational Capital Markets advised the vendor on the transaction.
As the institutionalisation of the European residential market continues, investors can leverage DWS's extensive track record built over 15 years of investing in this sector. With its in-house research, established local presence and market access in key European markets, DWS is able to assist its clients with an understanding of these diverse real estate markets.
Mike Hill, Head of Real Estate Transactions, UK and Ireland, DWS, said: "This acquisition is a testament to our strategy to focus on high quality real estate investments offering stable cash flows and a sustainable occupancy level for our investors. We remain interested in promising acquisitions in the residential, logistics and office sectors."