Wellington Real Estate and the Happenings Since Covid
When Covid hit the world in March 2020 nobody knew how it would impact the Wellington Florida real estate market. Would people stop selling their homes? Would people stop buying homes? Would the market come to a halt, stay the same or get busier?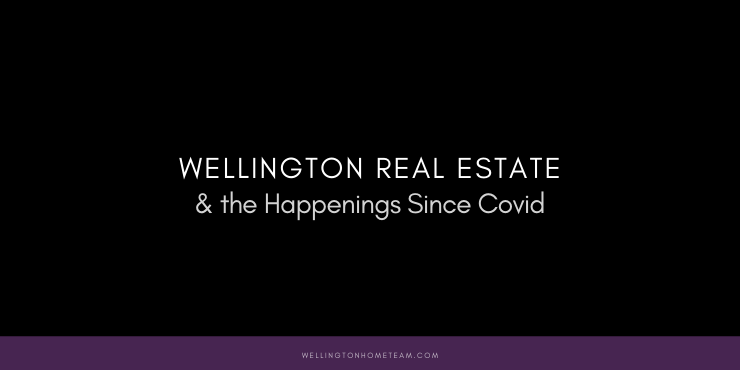 Well, nobody knew and I don't think anyone was prepared for what was to come. The market went from a sellers market to an extreme sellers market to a market nobody has ever experienced before.
So let's take a look at the Wellington real estate market and what's been taking place over the last 2 years.
Number of Homes for Sale in Wellington
March 2020 to March 2022
Since covid hit in March 2020, the number of homes for sale has been rapidly decreasing. In March 2020 Wellington had 559 homes for sale and by March 2022 we only had 141. You read that correctly, home inventory decreased by almost 75% in 24 months. Back then asking prices ranged from $149,000 to $40M and now they range from $295,000 to $36M.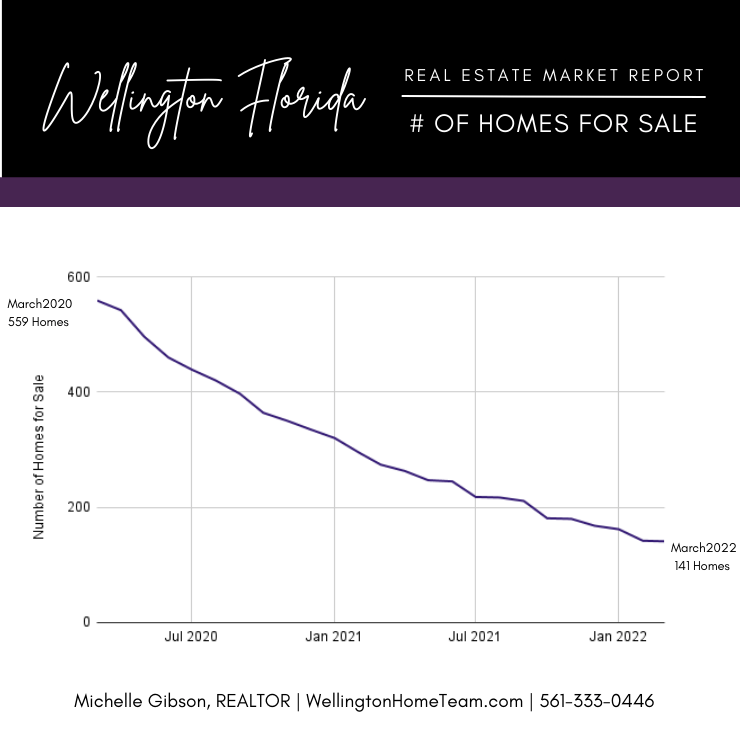 Wellington Home Sales
2019 vs 2020 vs 2021 vs Now
Many people assume the lack of home inventory we're experiencing in Wellington is because nobody is selling their home but as you will see below that is not the case. In order to paint a clear picture of what's been happening in the Wellington real estate market let's go back to 2019.
In 2019 a total of 1262 properties sold in Wellington. The number of home sales increased by 12% in 2020 and it increased another 7% in 2021. To date, 2021 had the highest number of home sales ever, which totaled 1,508 sales. It also had the highest median sales price of $534,500. However, 2022 is already on track to set a new record for the median sales price and only time will tell if more than 1,508 homes will sell.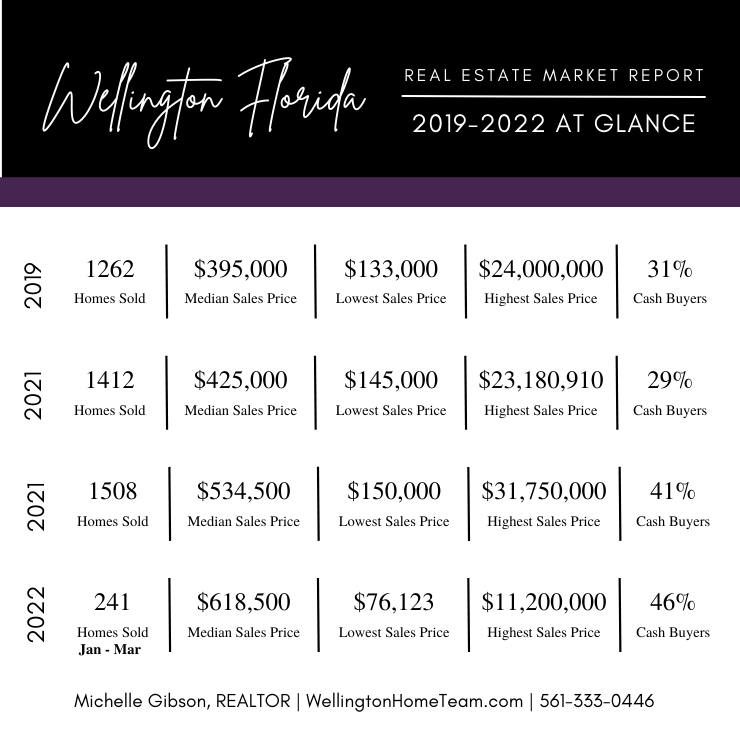 Many people know the Wellington real estate market is crazy but do they know what has really been going on since covid? #wellingtonfl #realestate
Is the Wellington Florida Real Estate Market Going to Crash?
Many people assume the Wellington real estate market is going to crash. In fact, many people are counting on it and planning their future around it. While I don't have a crystal ball, I do have 20+ years of experience being a Wellington Realtor under my belt and I don't see the market crashing.
So many people keep comparing our current market to the market we had in 2004-2006. Back when property value doubled in a few short years and then tanked. Many homeowners experienced a 60% drop in property value. So a lot of homeowners found themselves upside down when it came to their home's value.
Well, I can tell you firsthand that market is not this market! While the markets do have similarities they are extremely different and here's how:
2004-2006 Market VS 2020-2022 Market
THEN: Sellers received a few offers.
NOW: So many sellers are now receiving 10, 20, and 30+ offers.
THEN: Sellers would find a buyer within a few days, sometimes a week.
NOW: Sellers are finding buyers within hours.
THEN: Almost every single buyer was obtaining financing; a first and second mortgage, 5/1 arm, adjustable-rate mortgages, no money down mortgages.
NOW: 30-50% of buyers are paying cash at all price points or putting at least 20% down if they're obtaining financing.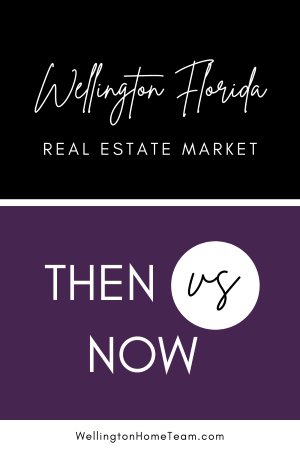 THEN: Mortgage interest rates were low.
NOW: Over the last two years we've experienced historically low rates.
THEN: Buyers had several contingencies with long contingency periods.
NOW: Contingency periods are short and in some cases, buyers are removing contingencies altogether.
THEN: Buyers could easily get a mortgage well above their means with little to no documentation.
NOW: It is a lot more difficult for buyers to obtain financing, they need more than a pulse.
THEN: A majority of homes appraised but if for some reason they didn't oftentimes sellers worked with the buyer.
NOW: If a home doesn't appraise not too many sellers are negotiable and the reality is they don't have to be. Countless buyers agree in advance to come up with additional funds to cover the appraisal shortfall, this is called an appraisal gap.
THEN: Escalation clauses didn't exist.
NOW: Buyers are submitting offers with an escalation clause stating they will pay $X above the highest offer the seller receives.
THEN: In roughly 2 years property value doubled.
NOW: In 2 years property hasn't doubled. However, property value has already exceeded the peak of the market back in 2005-2006.
THEN: The median sales price at the peak of the market in 2005 was $420,000.
NOW: The median sales price in 2022 is $618,500.
THEN: The real estate market crashed. A home worth $500,000 in 2005 was worth $185,000 by 2010.
NOW: There are no signs of the market crashing and property value continues to climb.
So while these two markets had similarities on the surface they are really nothing alike.
If unqualified buyers were obtaining loans and putting little to no money down I'd agree history may repeat itself. However, that is not the case, a lot of cash is being pumped into our market. Many buyers are paying cash, lots and lots of cash, and financed buyers are putting money down, which wasn't the norm back in 2004-2006.
So when the market shifts, which it eventually will, do you think these buyers are going to easily part with their money? I'd have to say they probably won't. After the market crashed buyers had no issue "taking a loss" and selling their home as a short sale or letting it go into foreclosure because in many cases they weren't losing money, the bank was.
Ultimately, only time will tell what is truly going to happen in the future with the Wellington real estate market but I don't see a crash coming our way.
Please consider spreading the word and sharing; Wellington Real Estate and the Happenings Since Covid


Many people know the Wellington real estate market is crazy but do they know what has really been going on since covid? #wellingtonfl #realestate
About the Author
Top Wellington Realtor, Michelle Gibson, wrote: "Wellington Real Estate and the Happenings Since Covid"
Michelle has been specializing in residential real estate since 2001 throughout Wellington Florida and the surrounding area. Whether you're looking to buy, sell or rent she will guide you through the entire real estate transaction. If you're ready to put Michelle's knowledge and expertise to work for you call or e-mail her today.
Areas of service include Wellington, Lake Worth, Royal Palm Beach, Boynton Beach, West Palm Beach, Loxahatchee, Greenacres, and more.
Wellington Real Estate and the Happenings Since Covid